News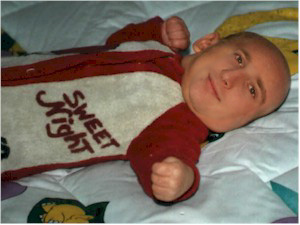 April 30th, 2002
Finally, MuzzChat Java Edition is up and running, it is ultra-reliable, and will run on all types of machines. (including your troublesome Mac, Tonkin) I actually had it done about a week ago, but was forced to rewrite it. First because there was a major logic error on my part, then I had to rewrite the interface part of it, to use AWT instead of Swing, to save users from having to download the enormous JRE. Anyway it's working now, so you lonely bastards better use it because I spent 1 month of the better part of my life writing it.
---
April 28th, 2002
My brain is half gone from a weekend of driving on the 401, partying in an abandoned houses, and more driving on the 401. My handicapped brain is finding it hard to spit out words. Me and Sarah went for a road trip to T.O.. While it was fun, there isn't a whole lot of funny news that you would be interested in reading. To sum things up, Sarah got to see her best friend, and I got new stickers for my laptop.
---
April 27th, 2002
Puddle of Mud sucks!!
---
April 26th, 2002
Holy shit am I ever slacking with my site updates. My time has been occupied with enjoying the nice weather, working on MuzzChat, and exploring the uncharted crevasses of my body.
---
April 25th, 2002
Fatrob came down for a night, we partied at the Fort with his brother Gunther (pissing game included, obviously), stuffed our faces at Subway, then went to some room in the Fort Hotel where some kid was living. We mooched his munchies that he got from the Food Mission (those donuts weren't that bad). Lucas pop-canned a roach he also mooched off this guy, then Big John and Steve Morello went back to John's backyard to BBQ some Kraft dinner.
---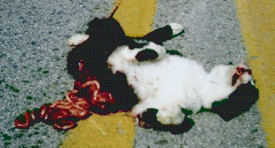 April 17th, 2002
This is the last week of school, thank god. Someone find me a job.
---
April 16th, 2002
I'm going to Toronto again next weekend, so I'm gonna stop in London and see Sean and Abbie.
---
April 15th, 2002
I'm taking down the chat cause:
1)It is really messed up.
2)No one uses it because of reason 1
3)It is a disgrace to my programming portfolio

Don't worry though, I plan on having the Java version up and running by the end of next week.
---
April 14th, 2002
ATTENTION LADIES!!
Amherstburg's most eligible bachelor (me) is no longer eligible. I've been matched with the beautiful Sarah Fulton. Hey look on the bright side, Bryson Parks is still single.
---
April 13th, 2002
ABBIE ABBIE ABBIE ABBIE ABBIE ABBIE ABBIE ABBIE ABBIE ABBIE ABBIE ABBIE ABBIE ABBIE ABBIE ABBIE ABBIE ABBIE ABBIE ABBIE ABBIE ABBIE ABBIE ABBIE ABBIE ABBIE ABBIE ABBIE ABBIE ABBIE ABBIE ABBIE ABBIE ABBIE ABBIE ABBIE ABBIE ABBIE ABBIE ABBIE ABBIE ABBIE ABBIE ABBIE ABBIE ABBIE ABBIE ABBIE ABBIE ABBIE ABBIE ABBIE ABBIE ABBIE ABBIE ABBIE ABBIE ABBIE ABBIE ABBIE ABBIE ABBIE ABBIE ABBIE ABBIE ABBIE ABBIE ABBIE ABBIE ABBIE ABBIE ABBIE ABBIE ABBIE ABBIE ABBIE ABBIE ABBIE ABBIE ABBIE ABBIE ABBIE ABBIE ABBIE ABBIE ABBIE ABBIE ABBIE ABBIE ABBIE ABBIE ABBIE ABBIE ABBIE ABBIE ABBIE ABBIE ABBIE ABBIE ABBIE ABBIE ABBIE ABBIE ABBIE ABBIE ABBIE ABBIE ABBIE ABBIE ABBIE ABBIE ABBIE ABBIE ABBIE ABBIE ABBIE ABBIE ABBIE ABBIE ABBIE ABBIE ABBIE ABBIE ABBIE ABBIE ABBIE ABBIE ABBIE
---
April 12th, 2002
Sorry Abbie for not mentioning you in my story about the Welland Trip. I'll make it up to you.
---
April 11th, 2002
The sad part is that I'm listening to 'Civil War' by Guns 'n' Roses, and I'm actually enjoying it.
---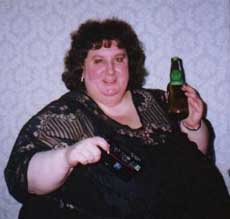 April 10th, 2002
I found a picture of that beer drinking, bar momma that insulted Channel 6's music at the concert.
---
April 9th, 2002
Gates got accepted to 'Hotel and Restaurant Management' at St Clair. Never under-estimate.
---
April 8th, 2002
Jae Muzzin - Hero
After the concert, me and Bryson were walking out to his van from Pete's place, when suddenly we spotted a raging inferno coming from what looked to be a truck trailor, or a small building, with flames licking 40 feet in the air. Letting our wits lead us, we ran back in side, where I placed a call to 911. The dumbfounded fire department raced to the scene and quickly extinguished the flames.
Terrorist activity has not been ruled out.
---
April 7th, 2002
The Muzzin/Channel 6 concert was good, but it had the same 15 people in the audience it always does. I think they need to completely rethink their strategy for getting fans, cause what they are doing now isn't working. They need to start having shows and putting out flyers in other towns, besides Aburg. They should tour all of essex county, not just Changez and the Scout Hall. I bet you they could get every single person in a shitty town like Cottam to show up, cause there isn't anything to do in small towns like that. Besides, Aburg doesn't deserve to have a band like 'Muzzin' playing in it anyway.
---
April 6th, 2002
Apologies to Rochelle for putting her name in the news section.
---
April 5th, 2002
The chat is up and running. Sorry, but in only works on Windows machines right now. That will soon change when i re-write it in Java. There is still a few problems with it, but that will be fixed shortly.
---
April 4th, 2002
Their isn't any horrible interesting stories from Welland, but Pat's new band "Grand Poo Bah" won the Battle of the Bands. They are now going to Guelph for the all Ontario competition. Grand Poo Bah was one of the best bands I've ever seen live (besides New Kids on the Block). They have an amazing style of music, and you can tell they love their own music when they play. They play funk music, and they were the first band I've seen to have a flute. They all are students of MIA at Fanshawe college.
Me and Sean got caught smoking in the bathroom by teen-wolf (Michael T. Fox) on the bus ride up. Sean liked him so he slapped his ass. Sean hooked up the fungi, Todd B. puked in the bathroom, John Weston ate a chicken burger, Vin macked on a chick that looked exactly like Angela Medford, and the bouncer grated cheese.
---
April 2nd, 2002
Ok on Saturday, we partied at Pete's. It was the usual cigarette, beer, THC bonanza. We went to the worst bar in the world, 'Bad Hare Saloon'. Memories are hazy, but I'm gonna try my best to recollect what happened.
After a lengthy wait in line, we were allowed in. My eyes took a moment to adjust to the luminosity reflecting off body grease, and my nose was overtaken with stench of promiscuity. In no time at all, the bar got a show from none other than Amherstburg's very own Rochelle McGraw. She decided that the male's attention was too equally divided among the other girls, so she took what was rightfully hers (inducing guys into a trance-like state by dancing on the bar and flaunting homosexual behavior with her friend). Needless to say she was booted for being too drunk, and was safely escorted back to Amherstburg by the valiant Anthony Butera.
The electronic drum beat began to pierce my eardrums, and each person who passed stank more like stupidity. Trying to talk sensibly to my male counterparts was futile, since they too were in a trance-like state (see above). I had to leave. A long walk back to Pete's it was, but anything was better than that. Outside was a hotdog vendor, and he looked like he was of Muslim origin. I though maybe I could relate to him about my grief, seeing Islam pushes conservative values. The only response I got was, "Best Hot Dogs In Windsor!! You want one?". This was hopeless.
The walk home was uneventful, except for getting stopped by the police for J-Walking. They rang in my ID, then gave me directions to where I was going. I am thankful for this, because they sent me in the exact opposite direction was going!! When I stumbled back to Pete's and passed out, I had the pleasure of Gates putting cold metal objects down the back of my pants. It was a pretty good night...
---
April Fools, 2002
I'm closing down this site for good!
---
Mar 31th, 2002
Thanks to Will Weston's poor organizational skills, the 40oz Amherstburg Reunion Tour did not take place. I will keep you updated with more information if it happens again.
---
Mar 29th, 2002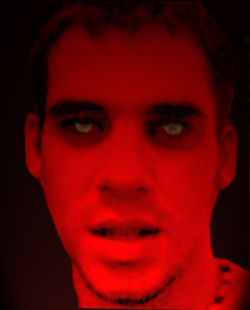 ---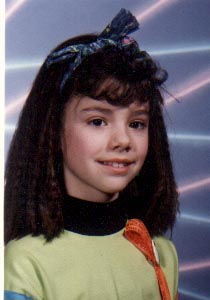 Mar 28th, 2002
Sorry Kay, but this opportunity was too good to give up. Don't worry though, I was that innocent looking too before I started hanging out with Gates!
---
Mar 27th, 2002

NOTICE TO ALL MUZZIFESTO MEMBERS!!!


If weather permits this weekend, Will Weston is organizing the '40oz Amherstburg Reunion Tour.' All old members of the St Ides club are required to attend, and any newcomers are welcome.
---
Mar 26th, 2002
I'm eating microwave spring-rolls right now.
---
Mar 25th, 2002
Sorry for putting such an overplayed band as mp3 of the week, but that song is amazing.
---
Mar 25th, 2002
I had that job interview with the library on Monday. I got there two hours early and waited out front, and the whole time I didn't see another applicant walk in. So I'm pretty sure I was the only applicant. The interview went well, and the two ladies easily succumbed to the old Muzzin charm.
---
Mar 22th, 2002
Pete and Butera moved out, they live a block away from Matt D. Make sure you show up with some black crack-whores and leave them there.
---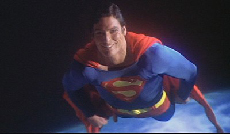 Mar 20th, 2002
I don't know about you guys, but I'm sure frickin glad that they don't play 'Three Doors Down' on the radio anymore.
---
Mar 19th, 2002
Today I was gonna rip on Kid Rock, but there isn't anything I could say that you don't already know, so I won't.
---
Mar 18th, 2002
If you couldn't tell already, I update this site every Monday after school, so I don't wanna get anymore msgs telling me to update the site!!
---
Mar 17th, 2002
Thanks to me and Tim's procrastination we didn't end up getting LTJ tickets. Instead I put all 150 LTJ mp3s of mine on rotation and stayed home and studied. What I regret the most is not seeing the closing song 'One Last Cigarette'.
---
Mar 16th, 2002
I downloaded Netscape to test this page with, and for some strange reason, the background color is a deep shade of blue. I can't exactly figure out why yet, so for all of you that are using netscape, download IE 6. (It's way better anyway)
---
Mar 15th, 2002
Alright, I got 'true democracy' setup. Please post lots of questions. If you have any errors, please let me know.
---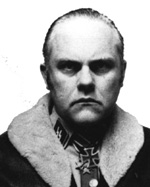 "Hey there blue eyes!"
Mar 15th, 2002
Can everybody please post where all the parties are at this weekend? Why? Cause I'm a loser who needs a website to find out about parties.
---
Mar 14th, 2002
I have a bad feeling about me and Gates going canoeing, since one time he told me that he had so much fun sea-dooing, he used the experience for masturbatory stimuli many times.
---
Mar 13th, 2002
Sorry about the mondo lackage of updates, but I've been enjoying the nice weather.
---
Mar 12th, 2002
I'm trying to order LTJ tickets from ticketmaster.com, but the site is so damn unreliable that I'm having trouble getting to the ordering page. You'd think with the millions they make from charging teenagers service charges, they'd be able to find a decent web host.
---
Mar 10th, 2002
Imagine you went to a party and killed all the guy's house pets.
---
Mar 8th, 2002
Who here is concerned about the state of our National Pride? A German propaganda poster from WWII reads, "Kampft fur Fuhrer und Volk". Translated it says, "Struggle for the Leader and people." Placing this slogan in our time and country seems almost hilarious, since we don't have a struggle, we don't have a leader, and we have no real definition of a people. Even if you consider your work a struggle, you are not struggling for your people, most of the time you are struggling to profit American CEOs, and if not American, then Canadian CEOs (which isn't much better). I think we have no real sense of Nationalism because :
a)We have no real Canadian Mass Media.
b)We went from being a British Colony to being an American lumberyard.
c)It's just so much easier (and cheaper) to adopt American culture and industry, instead of creating our own.
d)Our federal government does nothing to encourage our independent thought, they do nothing to encourage Canadian Entrepreneurial initiative, and they do nothing to increase reproduction among Canadian citizens (they find in easier to import people from other countries)
e)There are too many conservative Canadians (Reform Party, PCs) who are only interested in swelling their bank account rather than giving to social programs to help a fellow countrymen (using that word in context to Canadians is actually funny).
f)We are too dependent on American trade and employment, and are afraid to upset them.
g)Our economy isn't self-sustaining at all.
h)Our military is a joke.
i)We do too much to encourage diversity among different ethnic groups.

---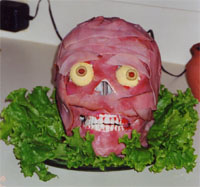 Mar 5th, 2002
Wow, what a boring week. It turns out Rob didn't ditch us, but he only came down for like two days during the week. He left early to catch some play in T.O. (Whatta flamer)
---
Mar 3rd, 2002
Ok, what happened when my parents were gone:
-(Friday) Kurt, Jabs and Pook came over, we ate wasabi and wondered why there was no females around.
-(Saturday) Spent the afternoon thinking about how I smoked too many cigarettes the night before and played 'Age of Empires'.
-(Saturday night) Went to 'Bad Hare Saloon' with Kurt and Nantais cause Kurt was supposed to meet to chicks there. After the chicks started talking to other guys, we got the hell out of there. (My queue to leave was when Crystal Chambers walked in). We then went to the loop so Nantais could have his dishwater beer, then went back to my house. After 4 or 5 glasses of milk-tokes, we again wondered why there was no females around.
---
Mar 1st, 2002
Oh man, I gotta pay my visa.
---
Feb 29th, 2002
I'm disappointed, I didn't see anybody at the concert. (Probably cause I wasn't there.)
---
Feb 28th, 2002
Coming soon: Trivia!!!
---
Feb 25th, 2002
Another boring week gone by. I wish I had some news, but I don't. Here's a quick recap of last week's events:
-Tim Nantais got a membership to CostCo, so everyone bug him to buy you bulk condoms.
-Nike protest was semi-successful. There was a whole 4 people there, but we still did it, and we managed to get on the local news.
-Sarah let me know my position in the universe.
-I gave Adam Gaines (haha) Sarah's phone #, and he calls her every 15 minutes.
-I rolled up $140 in small change to pay off my visa bill.
-Rob ditched us, he didn't come down.
-Gates actually called me.
-Kay is having chicken-withdrawal syndromes.
-Me and Tim got drunk and made asses of ourselves at Tonkin's.

---
Feb 24th, 2002
You may have noticed that it is impossible to leave messages under my name. This is good because false statements can cost me my future career in politics.
---
Feb 23rd, 2002
This week's quotes are from smart people who want to inform you stupid people about eating meat. (Kay sent me some of them, and I found some.)
---
Feb 22nd, 2002
In case you forgot there is a concert on March 3rd at the Gino A. Marcus community center (on Druillard Street). I better see some Muzzifesto Members there.
---
Feb 21st, 2002
I know what your thinking, it should be called 'Less than Jake Mp3 of the Week'. But I don't care cause I'm warming up for the concert on Mar 22nd. The song this week is one of my personal favourites. Make sure you download it.
---
Feb 19th, 2002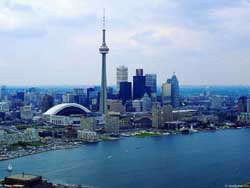 T.O. 2002!!(Muzzin, Willy, Kay, Airyn)
While we didn't really do too much, it was still alright. Our hotel was in the middle of Chinatown, and some crazy Chinese guy kept knocking on our door asking for "Ling-pen". It turns out the towel under the door worked after all. On our first night we just enjoyed the fine tomato-rice soup I made, and stayed in the hotel room. In the morning we ate grilled cheese, then decided to see some of the attractions in Toronto. We went to the Art Gallery of Ontario, but decided that the $12 cover charge could be better spent (like on burger's and booze). At about 1:00 in the morning, me and Willy decided to see how the ghettos looked in the star-light. Sure enough, someone attempted to mug us. Two Indians (sorry Lindsay, I mean native-canadians) approached us and asked me for my money. I did the natural thing, I said I didn't have any. They lowered the demand to a dollar, then a quarter, then a single cigarette. I told him it was his lucky day and give a pack with 3 broken smokes in it. He said, 'Thanks, now get out of here.' I did the natural thing, and left. (I left my six-shooter back at the hotel, so I'm just glad I didn't get scalped.)
Later that night we walked down Queen street looking for a bar. We only found one, and it was a Latino bar. After showing my comrades the dances I know (the switchy-step-summersault-slip-into-black-guy in particular). The next day we ate more grilled cheese, then left, leaving the sweet chinese maid (who I want to marry) to clean up the mess left by 4 drunken, brain-dead teenagers.
---
Feb 18th, 2002
Rob is coming down this week-end.
---
Feb 15th, 2002
Anybody who wants to go to the Bad Religion/Less than Jake concert has to give me the money for their ticket in advance cause I don't have the $flow$ to buy everyones ticket right away.
---